[So.Ra.No.Wo.To] Stay Frosty Oscar Mike: Soramirez Do Everything
Youtube user Tokuroid created these parodies mixing So Ra No Wo To's episodes and audio/video clips from Call of Duty: Modern Warfare 2, Fallout 3 and Left 4 Dead.
Starring:
Edit
Rio Kazumiya as Sergeant Foley
Kureha Suminoya as Corporal Dunn
Noël Kannagi as "Soap" MacTavish
Filicia Haideman as Captain Price
Also featuring:
Edit
Princess Iria as General Shepherd (Ep1)
Mishio as Random Opfor Soldier (Ep1 and 6)
Mobster Boss as Makarov (Ep6)
Takemikazuchi as Liberty Prime (Ep3 and 4)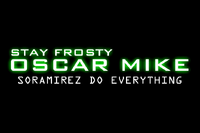 Every episode on Youtube is down now due to lol copyright infringements.
You can still download the youtube rips (including #6) from here: http://www.mediafire.com/?aibbzz6uptpae

Update: Mediafire is blocking some of those files under DMCA claims from 20th Century Fox Films.
Here's an alternative link. http://www.mediafire.com/download.php?prza97x3q1ljcrb
Ad blocker interference detected!
Wikia is a free-to-use site that makes money from advertising. We have a modified experience for viewers using ad blockers

Wikia is not accessible if you've made further modifications. Remove the custom ad blocker rule(s) and the page will load as expected.