電話番・緊急事態ヲ宣言ス - Telephone Watch: Emergency Declaration
Season 1, Episode 8
Air date
February 23, 2010, 02:00-02:30 (JST) (delayed by 30 minutes)
Written by
Hiroyuki Yoshino
Directed by
Tomihiko Ohkubo
Episode guide
Previous
饗宴・砦ノ戦争
Next
台風一過・虚像ト実像
Translated synopsis (TV Tokyo)
Sitting in a chair, a teary-eyed Kanata continues to endure. Before her eyes, one black phone. Now, she is in the line of duty. And her mission: Headquarters enacted a state of emergency, and tasked her with communicating orders--
Translated synopsis (homepage)
This time, Kanata sits in a chair, quietly continuing to wait. Broken bottles, wet laundry. The mess hall's frantic appearance only gives Kanata doubt and regret.
If she sighs that moment...if she were to wait out this time...
Before a teary-eyed Kanata is a black phone, which has yet to ring.
Private Kanata Sorami. Now she is on orders to wait for an extremely pressing emergency call from headquarters
(from wikipedia):
The squad are asked to watch over the emergency phone and wait for a call to check it is still in order, so Kanata decides to take responsibility whilst the others go out for various tasks. Before Rio leaves, she gives Kanata a trumpet book, signed by an Iliya Arkadia. Later, Seiya, Mishio and the Priest arrive, and decide to help Kanata practise using a phone, but a mess is made when Mishio spooks Shuko. Yumina arrives at that point, scolds the others and gives Kanata a change of clothes. Afterwards, Kanata needs the toilet but can't leave her post, so she holds out until Rio comes back. The phone then rings and Rio answers, hearing a voice she's not too fond of asking her to save Helvetia.
Referbacks
Edit
references to previous episodes
The name of the blonde soldier is revealed to be Iliya Arkadia.
New Characters
Edit
Cultural References
Edit
The stars shown at the end could be part of the constellation of Pegasus. This is visible from Cuenca in summer. The shooting star is shown for reference as a line in the sky view.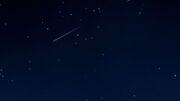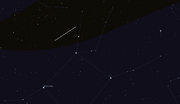 Unanswered Questions
Edit
External links
Edit
Ad blocker interference detected!
Wikia is a free-to-use site that makes money from advertising. We have a modified experience for viewers using ad blockers

Wikia is not accessible if you've made further modifications. Remove the custom ad blocker rule(s) and the page will load as expected.