Iliya Arkadia

The princess playing a trumpet (for Kanata?)
Japanese name
イリア・アルカディア
First appearance
Episode 1
Voiced by
Ryouko Ono
Profile
Nicknames
Grace, or "The Blonde"
Gender
Female
Nationality
Helvetian
Seen with trumpet and bell that are very much like the trumpet and bell seen with Rio.
Taught Rio how to play the trumpet.
Seen with Kanata as a child.
Inspired Kanata to learn to play the trumpet after playing Amazing Grace.
Drowned trying to save a child 2 years prior to the story.
It was rumored she was supposed to be bethrothed to the Roman Emperor in order to end the war between Rome and Helvetia.
If she married to the Emperor, she would have been the Emperor's third wife.
Half-sister of Rio (same father, different mother).
First daughter of Archduke Arkadia.
SpeculationEdit
Rio uses her trumpet.
Her name might be engraved in the observation post the girls get to in ep5.
Might be The Ghost.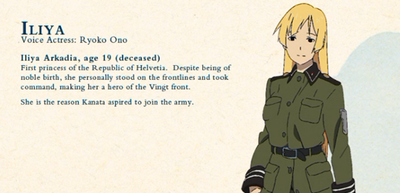 Ad blocker interference detected!
Wikia is a free-to-use site that makes money from advertising. We have a modified experience for viewers using ad blockers

Wikia is not accessible if you've made further modifications. Remove the custom ad blocker rule(s) and the page will load as expected.