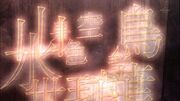 Nocturn type observation devices placed on the south side of Seize (the border between Seize and no man's land). They are a complete black box for them, it's impossible to disassemble them.
When Kanata touched the first one in episode 05, Holographic Kanji appeared in front of her:
音 - Sound
羽 - Feather / Counter for birds
葉 - Leaf
水 - Water
白 - White
碧 - Jade / Green
鳥 - Bird
山 - Mountain
世 - World / Era
空 - Sky / Empty
靜 - Quiet
色 - Colour / Passion
果 - Fruit
文 - Word / Sentence
Ad blocker interference detected!
Wikia is a free-to-use site that makes money from advertising. We have a modified experience for viewers using ad blockers

Wikia is not accessible if you've made further modifications. Remove the custom ad blocker rule(s) and the page will load as expected.